What's New at Maxville
Maxville Celebrates Launch of Newest Art Show
November, 2023. Collaborating with Ray Beldner of Startup Curatorial, Maxville Winery presents our newest art show titled "Landscape Reimagined." The exhibit showcases five Napa Valley artists redefining landscape art: Chris Beards, Chandra Cerrito, Arminée Chahbazian, Laura Corallo-Titus, and Nancy Willis.
Come meet the artists, celebrate the holidays, and enjoy Maxville wine and bites by our very own Chef Stefano Gusberti on Saturday, December 9, from 2-4:30! Registration is required, and tickets ae $20/person and complimentary for wine club members.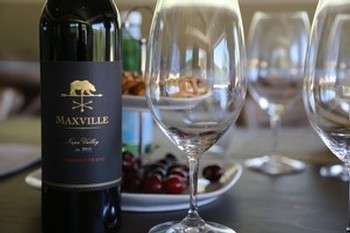 ---
Maxville Celebrates Grand Opening of Kitchen & Art Exhibition
July, 2023. Wine consumers and industry insiders gathered at Maxville Winery, nestled in Napa Valley's Chiles Valley, to celebrate the grand opening of Maxville's commercial kitchen and Bay Area artists' exhibition. CEO Anthony Hsu performed the ribbon cutting ceremony.


---
Maxville CEO Anthony Hsu Celebrates New Winemaking Team
July, 2023. Anthony Hsu and Maxville Winery have welcomed renowned Napa Valley winemaker Jeff Owens as Maxville's new Consulting Winemaker. Congratulations to Collin Lilly on being promoted to the role of Maxville's Associate Winemaker!

Consulting Winemaker Jeff Owens

Associate Winemaker Collin Lilly
We would love for you to
Sign Up For Our Mailing List
Keep up to date on our latest wine releases, tasting room experiences, special events and wine offers.