Cave and Barrel Room
---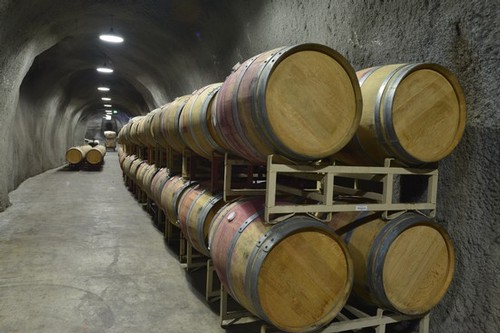 Outside of the tasting room, you will see a set of huge red double doors. These doors lead into our beautiful cave, a 15,000-square-foot cavern where we age and ferment our wine. The moist air inside the cave means that less wine escapes from the barrels through evaporation. Ambient temperature varies only 5°F (from 63° to 58°) between summer and winter which protects the wine against the temperature swings that happen in an artificially cooled building. The cool, constant temperature and high humidity under the hill saves energy but, more importantly, the cave allows us to produce the best wines possible.
At Maxville Winery, we ferment and age our wine in mostly French oak barrels. We buy our barrels from more than a dozen different cooperages, and we replace about a quarter of them every year. The old ones go to home winemakers or get reincarnated as planters. The staves are harvested from French oak forests and left to cure for two to three years before being toasted to varying degrees. Barrel aging is a very important step of the winemaking process and the right selection of cooperages makes a huge difference in a wine.
On average the wine is aged in barrel for 18 to 24 months. We then top the barrels each month to replace what is lost by evaporation through the staves.
We taste wine in the barrels regularly to evaluate the effect of the wood on the wine. After the first year of "élevage" some of the wine gets blended, to make the base of what will become our exquisite Maxville wines. The wine is racked into a tank and the new "assemblage" is then put back into barrels. Aging and regular evaluation continues to bring the wine toward the final blend.
We would love for you to
Sign Up For Our Mailing List
Keep up to date on our latest wine releases, tasting room experiences, special events and wine offers.