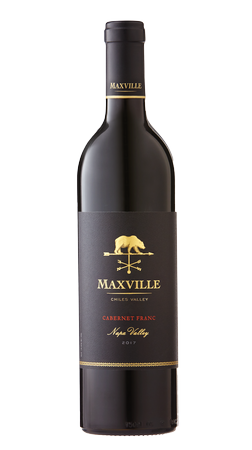 Maxville 2017 Cabernet Franc
Chiles Valley AVA
The pedigree of this Cabernet Franc reflects the unique terroir of our Chiles Valley – Napa Valley estate vineyard. Cabernet Franc has long been used as a blending grape in Bordeaux and Napa Valley, adding finesse and perfumed aromas to the more muscular Cabernet Sauvignon. A parent grape to Cabernet Sauvignon, Cabernet Franc has a lighter body but maintains the intense, dark fruit notes synonymous with Cabernet Sauvignon. We have just under 6 acres of Cabernet Franc in our estate vineyard, divided into 3 distinct blocks.
In this 2017 vintage, the quality and character of our Cabernet Franc was exceptional, and we chose to bottle it on its own, blending in some of our estate Cabernet Sauvignon to add structure and weight. We believe Chiles Valley Cabernet Franc is on the fast track to become a star; and we are staying ahead of the curve, planting an additional block with its own distinctive clone in 2015.
Wine Specs
Appellation
Chiles Valley - Napa Valley
We would love for you to
Sign Up For Our Mailing List
Keep up to date on our latest wine releases, tasting room experiences, special events and wine offers.