Executive Winemaker
George Bursick
---
Maxville Winery is proud to announce George Bursick as its new Executive Winemaker. Bursick, considered by many to be among the generation of winemakers who have shaped the current era in California's wine industry.
After completing his undergraduate work in plant physiology, George received a Master's Degree in Enology from UC Davis. Upon graduation from the now famous UC Davis class of 76', George began his first solo winemaking job at McDowell Valley Vineyards in Mendocino County where he was responsible for the first commercial release of Syrah in California.
After nine years at McDowell, George joined the design/build team at Ferrari-Carano in Sonoma Valley as Director of Winemaking. In 1986 The Wine Spectator magazine awarded his 1985 Chardonnay, "Wine of the Year", and featured only that wine on its cover. That success fueled a large expansion at Ferrari-Carano and George was able to add Cabernet Sauvignon, Merlot, Zinfandel and Sangiovese to his mix, ultimately allowing him to create some of the valley's first premium and ultra-premium red blends. Throughout the 20 years of excellence at Ferrari-Carano, George has been producing award winning wines of 90+ points from the Wine Spectator.
After celebrating 21 harvests and many milestones and accolades George left Ferrari-Carano to help his dear friend Judy Jordan continue her quest to establish J Vineyards & Winery as a true world luxury icon. As Vice President of Winemaking he ushered in a new era for J Winery, employing a variety of innovative practices focusing on site-specific vineyard blocks and introducing a myriad of variables, each designed for a specific vineyard's characteristics during the fermentation process. During his time at J Winery, George produced some of Sonoma County's best Chardonnay, Pinot Noir, and Pinot Gris wines that received "Varietals Of The Year" by three international wine publications. Pinotage was another specialty that received the highest score ever given to that variety by the Wine Spectator.
At Maxville George will have close to 90 acres of high quality Napa Valley fruit to work with, split into 20 unique vineyard blocks and planted to Cabernet Sauvignon, Cabernet Franc, Zinfandel, Petite Sirah, Merlot, Petit Verdot, Malbec and Sauvignon Blanc.

VP of Direct to Consumer Operations
Ryan Morales
---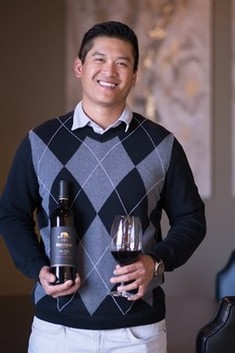 As an Oregonian that grew up in Gresham, a suburb of Portland, Ryan Morales found his love and passion for the wine industry in Sonoma County after graduating from Sonoma State University with a Bachelor's Degree in Business Administration specializing in Marketing and Wine Business.
As a 5-year college baseball player, Ryan's first dream was to play professional baseball but when he transitioned into the working world he found his passion for the wine industry and everything there was to offer. Upon graduating from Sonoma State, his first job was a Tasting Room Associate for the Dutcher Crossing Winery in Dry Creek Valley, California. Within the next year he was assigned multi-tasting room and production duties upon which he quickly found his niche to indulge in the business side of the industry and where he continued his journey into Direct to Consumer (DTC) operations, marketing, and shipping.
After seven years at Dutcher Crossing, Ryan joined Epic Wines and Spirits in Santa Rosa, California as a Customer Service Representative. This opportunity to work for a small wine and spirits distribution center allowed him to grow and better understand sales, customer service, and marketing. With all his past experiences and energetic spirit, Ryan has the solid foundation required to develop and provide top hospitality and practices for running a successful family winery.
The knowledge and accomplishments that he has gained makes him a perfect fit for our team at Maxville Winery where Ryan will establish the foundation for all aspects of the DTC realm as Vice President of DTC Operations.

VP of Marketing
Noelle Strouss
---
Noelle Strouss is a 5th generation Californian and a granddaughter of a Saint Helena real estate developer and farmer. The Golden State has always been her home. Noelle takes pride in her deep Napa Valley roots.
Noelle joined our team in 2018 to support the company's mission, vision, values and strategic objectives. In addition to her role as VP of Marketing, Noelle also acts as Maxville's Real Estate specialist leading the company to potential winery acquisitions. Noelle has spent over 20 years in this diverse industry of real estate.
Her joy of this rural community, and the product it bears, brings her back to her roots. Coming from a long line of American pioneers, she has chosen to honor that legacy and shares our desire to be good stewards of this land. Noelle believes what we're doing matters—creating great wines that share the place she loves and offering visitors the Quintessential Napa Valley destination. Noelle feels Maxville Winery summons the ultimate emotions of luxury and the adventures of the "last frontier".
Chief Operating Officer
David Donati
---
David Donati feels fortunate to have grown up in Marin and Napa counties. A long time resident of Oakville and Napa, David started his professional career working for fortune 100 companies globally. Working up the ranks, and traveling the world with these companies, David held various senior management positions.
As a business executive, David's focus and expertise was in sales and marketing. Working in distribution management, brand development and new business strategies. After taking early retirement from corporate life, David started an "encore" career in wine & hospitality in the Napa Valley. With wine making is his family, he first started as an entrepreneur importing wines from Italy - later moving on to the orchestrating & facilitating large corporate events around the country focusing on wine and hospitality. All this - eventually sent him to Maxville Winery.
David has been at Maxville Winery since 2015. He was instrumental in developing the vision of Maxville Winery and our extraordinary facility. David was pivotal in reshaping our beautiful tasting room, event space and expansive property at Maxville Winery and he continues with that "vision execution" as our COO.
We would love for you to
Sign Up For Our Mailing List
Keep up to date on our latest wine releases, tasting room experiences, special events and wine offers.